International Projects
MyCOE Youth Leadership Project Gallery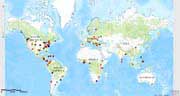 "The gallery is an interactive map of more than 585 community projects from young people in 52 countries that tells of how students and pupils are making a difference for the environment around the world. All projects use geographic tools like online mapping or even hand-drawn maps to identify sustainable development problems and solutions in local places."
Africa
Kibera in Nairobi, Kenya, was a blank spot on the map until November 2009, when young Kiberans created the first free and open digital map of their own community. Map Kibera has now grown into a complete interactive community information project.

Students from Cornell University met with community leaders in Mweka in Tanzania to collect spacial data on biodiversity, agricultural practices, demographics and health practices.
Europe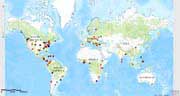 Middle School students in Tirana, Albania mapped present green resources and a future map with a proposal for new resources. At the end they sent a letter to the mayor asking that their work be published.

Year 8 students from Harrogate Grammar School, Allerton High, Roundhay School and Farnley Academy took part in a GIS workshop hosted by the Grammar School at Leeds. Their goal? Analyzing cell phone reception.
Middle East

Friends of the Earth Middle East (FoEME):
FoEME launched a new component to their Good Water Neighbors project, called 'Community Geographic Information System' (CGIS). The CGIS project is a joint Israeli, Palestinian and Jordanian educational initiative with the purpose of giving high school students the ability to identify environmental hazards in their area.
North and South America
In Rio de Janeiro, young people are mapping their communities to identify social and environmental issues. The findings of the digital mapping are presented to the Brazilian government to influence policies and bring change to vulnerable communities.

Haiti youth learn about health and technology in the neighborhoods of Cité Plus and Village de Dieu in Port-au-Prince. The intent was to map vulnerabilities and risks for HIV and other diseases.