Welcome to Youth Community Mapping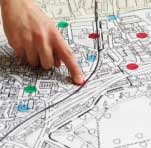 Since 2004, when 4-H launched Youth Community Mapping at the 4-H Technology Conference in St. Louis Forest Park, 4-H clubs in more than 1,000 counties have launched efforts to assist youth teams to visualize and analyze environmental, social and economic conditions that need action. In many cases their efforts have resulted in corrective action by companies, organizations and public groups.
Youth Community Mapping is an energetic group of adults who support and showcase Youth Community Mapping projects in the United States. Our team includes 4-H volunteers, retired technology workers, schoolteachers, and youth leaders.
We invite you to click through the pages to see what talented youth have created. Mentored by caring adults, these youth have used GPS locators, GIS software, and data collection techniques to help their communities through a variety of projects.